It's not unheard of that the technology sector can offer a lot of employment opportunities. However, it has become apparent that several tech companies have trouble finding tech talent. The tech talent gap continues to grow, and within the decade there will be thousands of tech positions that will need to be filled. It is often that when looking for a new job you will come across countless of tech jobs which you may feel are out of your reach. But a tech career is easily attainable for people from many different backgrounds, sometimes you just need a little help on where to start.
Aside from those who have completed a four-year degree in IT, there are other pathways you can take when changing careers and to get into tech. In other words, anyone can dive into a career in tech who is looking for a challenging project. To help you with your career change, we have listed some of the ways you can get into tech.
You can also download our in-depth guide to starting your journey to becoming a woman in tech below!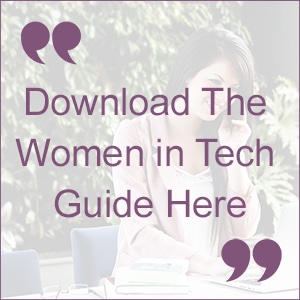 What steps should I take to get into tech?
1. Explore what type of role you're looking for
Before diving in to learn new skills and build a portfolio on what you have learnt, it is important that you take time to research and understand what roles exist in the tech industry. If you feel excited or are passionate about a certain career, the extra motivation will help you when making the transition. You may not get your dream job straight away, so be prepared to work hard. Getting into the tech industry with no or little experience is about working your way up and excelling in early roles.
2. Learn tech skills
Learning some tech skills is an important thing to look at when trying to get into the tech industry. Although studying a four-year degree may not be on the cards, there are other resources, education and training that are easily accessible to help you learn new skills. Before searching for courses online, it is beneficial to figure out what type of field you would like to enter. Once you have established the field you would like to enter, it is always worth reaching out to others in that field to see what programmes and courses are beneficial. If programming is your thing, some of the best skills to start learning are HTML and maybe JavaScript.
3. Take on technical mini projects
The best way to get yourself into technology is by throwing yourself in the deep end and starting to tackle mini projects. You can find mini projects online or set yourself goals that you need to complete. These mini projects can be completed in your spare time or alongside your current role. Building your experience and developing your knowledge within the tech industry will help you to build your portfolio for when you start to apply for jobs. These mini projects can be in a field where you want to develop or if you want to gain some experience in other areas in tech.
4. Look into getting a mentor
Getting a mentor at any stage of your life is beneficial and doesn't just have to be when you're trying to learn something new and get into tech. Working with someone who is already tech savvy and has experience in the field you're looking to get into is a great way to develop your skills. Sometimes it can be difficult to teach yourself everything online and you're bound to have questions that you want to ask, so having a mentor is perfect for those moments. Ideally you can arrange dates to meet with your mentor, or you can speak more regularly over the phone. Find someone who you can learn from and alternatively could learn from you. Women in Tech run a mentorship programme where we match mentees with mentors from all backgrounds/ interests in technology.
5. Network
Making connections is really important when you're trying to break into the technology industry. Attending meetups and conferences is a great way of getting yourself out there, it doesn't have to be awkward or difficult as you can attend meetups aimed at those who are new to the industry. Meeting like-minded people is also another way to gain more skills, expand on the ones you already have and even teach others what you have learnt already. Networking also gives you a feel for how different companies operate and implement tech skills into their businesses. The more you network, the more your chances increase of securing yourself a job within in a tech position.
6. Training
Signing up to training programmes is a great way to learn new skills when wanting to enter the technology industry. You can either go to courses in cities close to you or you can attend courses online to help develop knowledge and gain experience. Women in Tech have partnered with The Learning People to provide online training courses. We have recently started a mentorship programme which is beneficial for personal development, especially if you are looking for a career change.
Read more on What sector of tech should you go into here.