Specops Software recently used data gathered by Ivanti to create a visual demonstration of the top issues over 500 women working in the tech sector are experiencing. The data emphasises that there is still work to be done to achieve even greater female representation in the industry, however, despite the challenges, there's emerging evidence to suggest positive change is occurring.
We've used the data to summarise the top issues facing women in tech, in order to highlight key areas that need addressing to truly achieve gender diversity in tech. We have also highlighted the most influential female role models identified by the women behind the data because role models continue to play a crucial role in encouraging up-and-coming generations of women in technology to persist in chasing their career goals and dreams.
1. Gender perception
The women who took part in the study were asked to name the single biggest challenge they face as a woman in tech. Consistent with the results in The Women in Tech Survey 2019, the most common answer was 'being taken seriously due to gender perception'. Although this suggests there's still a perception problem in the tech industry when the results were compared to the survey the year before there was positive news. The comparison showed a 14.6% decrease in women experiencing gender perception as an issue, indicating that as far as perceptions go although it may be slow, the industry is heading in the right direction.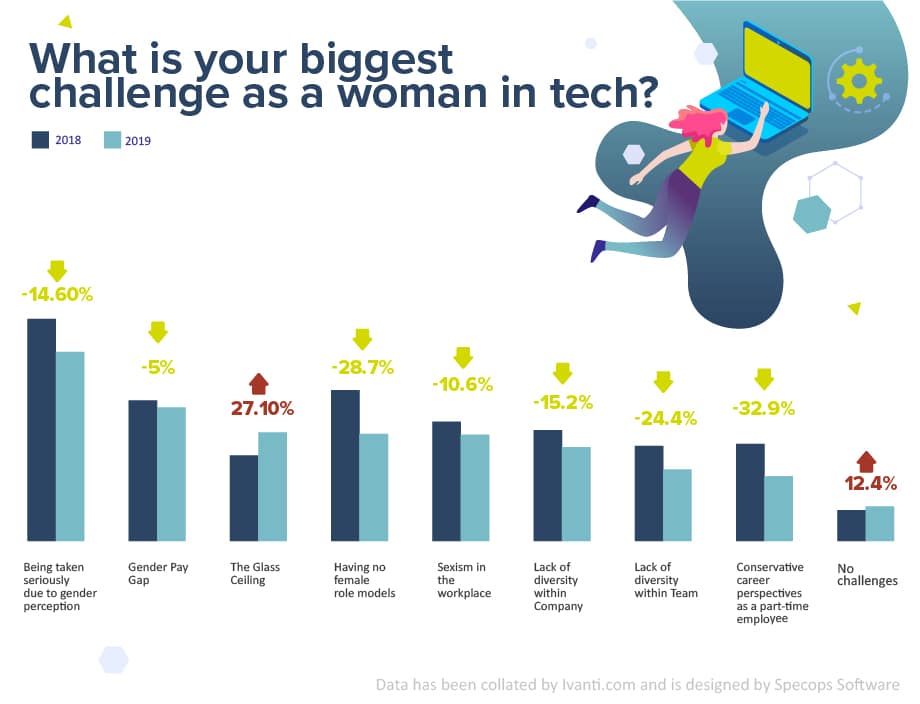 2. Lack of equal pay
When asked what they would want most in a new role in tech a staggering 63.7% of women named equal pay and benefits as most important to them. Reinforcing that narrowing the gender pay gap in tech is absolutely key to attracting and retaining female tech talent. A recent analysis conducted by Mercer looked into the gender pay gap in UK high-tech companies and revealed that the gap in earnings between men and women was 25%, which is higher than the overall pay gap in the UK workforce of 18%. What's more, that same analysis revealed that despite having the same abilities, men were more likely to obtain management level positions and bonuses compared to women. Whilst a gender pay gap exists in the tech industry it's unsurprising that women are united in calling for equal pay. Eradicating the gender pay gap in tech is vital if women are going to feel genuinely valued in the sector.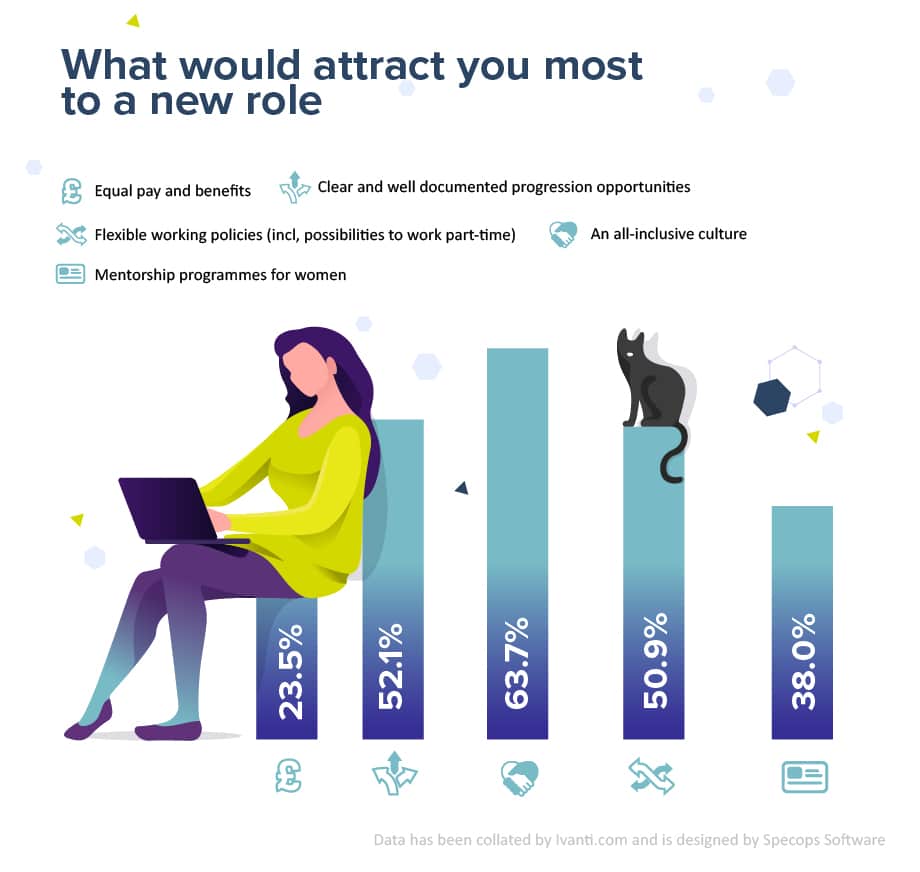 3. A persistent glass ceiling
There was one issue in the survey in particular that saw an increase year on year and that was 'the glass ceiling'. There was an increase of 27.1% more women agreeing there is a barrier which stops them progressing. This is a significant issue for women in tech because aside from the obvious lack of progression and opportunities, it means there are fewer women in leadership positions than men which is discouraging for women at the start of their tech careers. Clear examples of opportunities for progression has been noted as important for women considering a job in tech. After equal pay, opportunities for progression was voted close second on the top attractions when considering a job.
Tech women inspiring tech women
The 500 women taking part in the survey were also asked to name their most influential female tech role models. Being a minority group in tech, it's more important than ever that professional women have role models to look up to and inspire them to aim high. There were six names that were cited the most, and they were:
Susan Wojcicki, CEO of YouTube (28.7%)

Jacqueline de Rojas, President of Tech UK and Chair of the Board of Digital Leaders (27.5%)

Marissa Mayer, CEO of Yahoo (26.6%)

Ginni Rometty, CEO of IBM (20.4%)

Sheryl Sandberg, COO of Facebook (13.1%)

Dr Sue Black OBE, Computer Scientist (11.9%).
All of the women named as the most influential women in tech are women who have proven that it is possible to shatter through the glass ceiling. By reaching top leadership positions these incredibly important role models are examples to women in tech around the world that the space for women in tech is expanding. Although it may take extensive effort to keep persisting and keep fighting for true equality in opportunities, pay and progression in the industry, these role models show that it's definitely possible to excel in a successful career in technology as a woman.
Read about more inspirational women in tech here.