Do you feel you're not moving anywhere in your career? You're not alone – new research from WildGoose has found that more than half of women (54%) employed in the UK feel their employer isn't giving them enough options for progression in their career. With the pandemic forcing more remote working, it seems women are finding their career to be stunted due to limited opportunities to progress.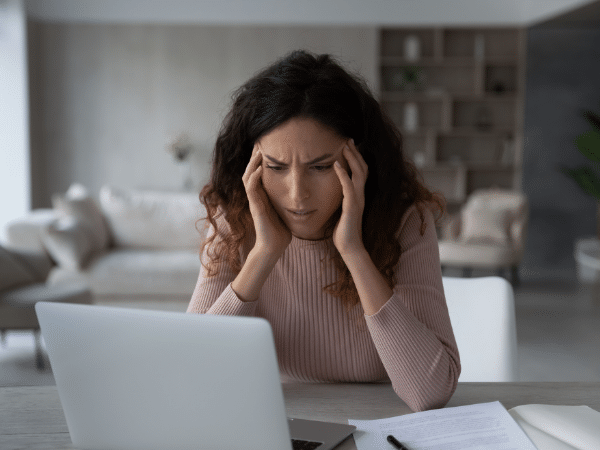 The survey asked employees from 133 UK companies about their onboarding experience at their new company, what current or previous employers could do better to retain their employees, and which workplace pressures affected retention over the last year. It was found that besides more progression opportunities, women desire higher pay (53%), better
work-life balance
(51%) and more constructive feedback from management (34%). The survey comes after experts warned in recent reports that
home and hybrid working
models could lead to increasing gender inequality in the workplace.
To overcome these career roadblocks, it seems that women are more likely to respond by moving companies. One in three women surveyed had started a new job in the last year, compared to less than one in five men.
Advice for when you feel stagnant in your career
For those who are still navigating how to bypass the glass ceiling within a flexible working setup, Wildgoose has spoken to a number of experts who have offered up their advice.
Speak up – raise your concerns and share your feelings
Jay Rai, qualified therapist and empowerment psychologist says: "An important first step is to become aware where the glass ceilings exist within your organisation. Don't be afraid to raise your concerns, because by speaking up you're likely to recruit important allies. However, do be patient, because breaking through glass ceilings does take time.
It can be super helpful to share what you're feeling with trusted friends or mentors to reassure yourself that you're not alone. Tapping into people who have more experience can tell you that what you're feeling is normal, and just knowing others have been in your position can make it seem less scary.
Do also consider people from other industries and at different stages of their careers among those you can learn from and seek advice from. These cheerleaders are there for the challenging times, but they also give you a sense of perspective."
Seek feedback – find out how you are perceived by others
Sarah Fitton, career coach at Coach Me to Success advises: "It's worth knowing how you're perceived by others. Particularly those who are in a good position to champion you, and those who will be decision-makers for any promotional opportunities (or those whose views might influence them one way or another!). Seek feedback to determine which of your strengths and values are already recognised, and where you need to focus your efforts, either in terms of development or simply being more visible.
Ask where there might be opportunities to step up and show that you're capable of operating at a higher level. Are there meetings you could sit in on? Or even meetings where you can raise your profile and expose your talents to stakeholders you wouldn't usually interact with."
Don't doubt yourself – navigate through fears and realities
Priscilla Oshunremi, founder of women's network The ConveHERsation says: Women have been nurtured to feel like we have to be defined by everything we do all at once: our femininity, our career, our manner, our appearance, how we talk, and what we think. We feel the judgement very differently to how men do and it's overwhelming. You start doubting that you deserve to be who you are, doubting your abilities. Learning to navigate through fears and realities is scary but essential to moving forward in life."
Stimulate change – step out of your comfort zone
Jasmine Mbye, founder of The Like Me CIC, a not-for-profit that aims to empower women and teen girls to develop confidence in their professional life says: "Focus on what you can change, whilst accepting what you don't seem to have the power to change presently. If, however, you find yourself unable to accept that, then that means you're compelled to find a way to stimulate change. This will ultimately mean stepping way out of your comfort zone and making others uncomfortable too – by challenging the status quo."
For more tips on how to progress in the workplace read our guide here.