Although more companies are addressing the gender gap in technology, women still only account for around 26% of people working in IT. Whilst this is an improvement from the figure of 19% in 2019, much more work needs to be done to get to a place of gender balance. Diversity & inclusion is on almost every employer's radar now and is rightly becoming a focus for them, so we're on the right track.
Without a diverse workforce, technology as an industry is being held back. We live in a diverse world, and the technology teams are working to build will serve people from different cultures, backgrounds, races, genders and abilities. If our IT workforce doesn't represent these diversities, we can't expect products and services to be innovative and to serve the purpose to their full potential.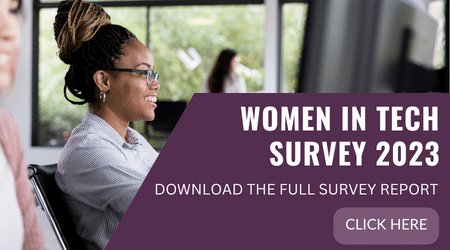 In 2019, Women in Tech conducted a survey where we asked women working in IT roles for their thoughts & opinions on some key areas. In October 2022, we wanted to ask the same questions again to gauge whether these opinions have changed, and to see if progress has been made. Questions were based around topics such as the gender pay gap, possible reasons women are put off from the tech industry, the priorities for women working in tech and the future of gender diversity in IT.
What are the key findings from the survey?
We surveyed over 500 people who work in the technology sector about their thoughts and opinions on the gender gap in technology.
Some of the key findings from the survey include:
The majority of people surveyed (91%) believe there are more men in tech than women. This is a 9% increase from when we last did the survey in 2019. Although this is not the case as the percentage of women in tech has increased, it shows more people are noticing the gender gap.

A staggering 76% of the respondents we asked said that they have experienced gender bias or discrimination in the workplace at least once. This is a huge increase of 24% from our previous survey in 2019.

90% of people believe that the tech sector would benefit from a gender equal workforce.

On a positive note, it does appear that more employers are working on gender balance, as 61% of people surveyed said that their organisation are actively working on it. This is compared to just 36% when we last asked.

The most popular ways businesses are trying to increase their gender diversity are by promoting women in tech roles and recruiting more women.

Flexible working is also becoming more common in tech companies since the pandemic. The survey found that 63% of women place flexible working in their top three benefits which would attract them to a job. This was followed by remote working and training within a company.

22% of people think that the main reason women are being put off from a career in tech is early misconceptions from a lack of education in young girls. By seeing more female role models in tech, young girls will start to see IT as a realistic and attractive career option.
To read more of the results in full, please download the official Women in Tech Survey 2023 here.