We think beyond what's possible. At BlackRock, we're building the investment technology platform of the future – and you can help.
BlackRock values new ideas, innovative thinking and growth through collaboration. As a technologist at BlackRock, the challenges you'll tackle will be complex and the impact you'll have will be vast – you'll help move markets, build economies and support the retirement of millions of people around the globe, including firefighters, teachers and more.
In 1988, our founders set out to create a better asset management firm – one that was purpose-driven, focused on clients and risk management, and driven by data and technology. Our breakthrough Aladdin® platform unified trading, risk management and reporting onto one system connecting the information, people and technology needed to manage money.
Over the years, we've evolved from an eight-person start-up into a global company that's trusted to manage more assets than any other investment manager. We've always been laser-focused on delivering long-term value for our clients and our shareholders.
And because we've purposefully invested in developing our platform, our technology and our people for more than 30 years, our solutions deliver portfolios that help more and more people experience financial well-being and, ultimately, better futures.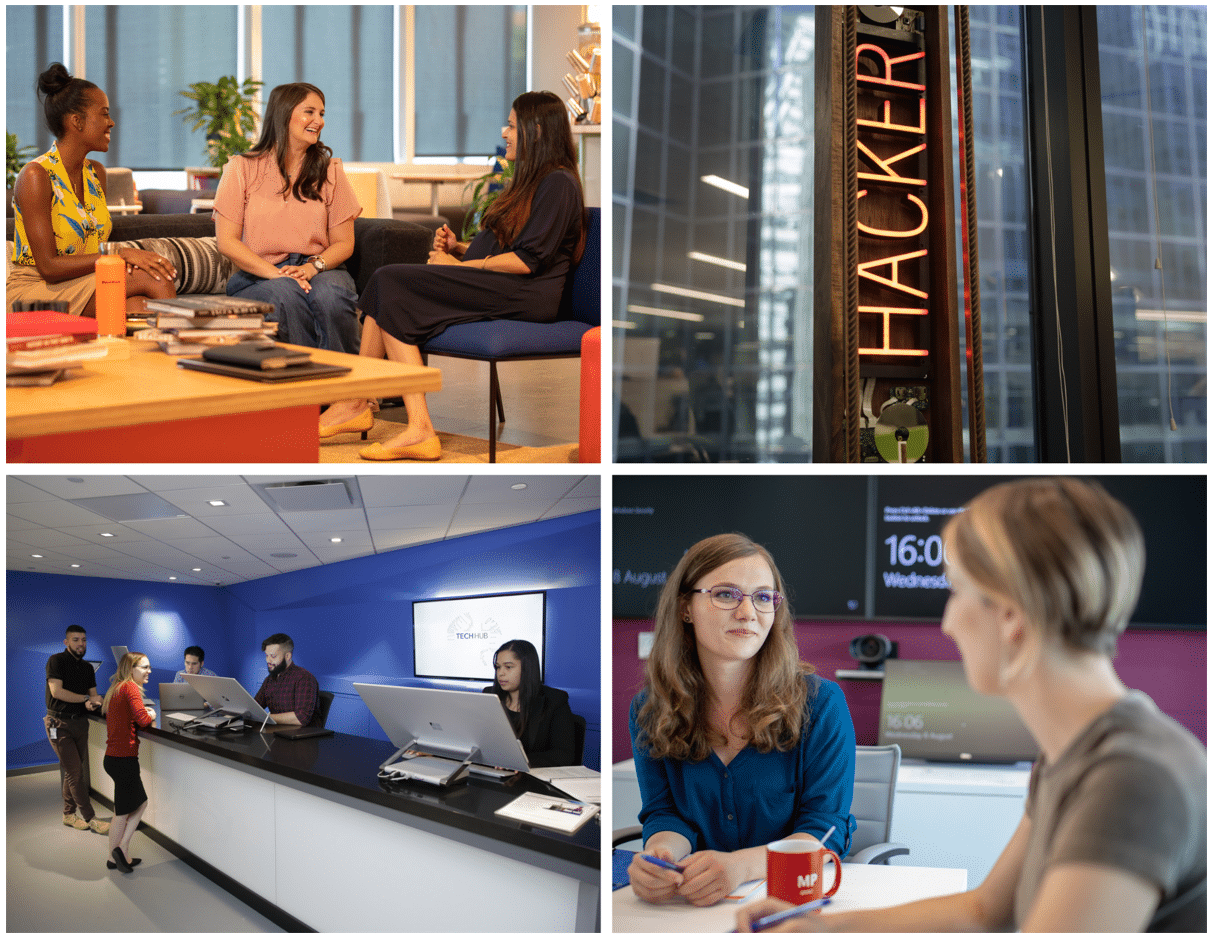 Diversity & Inclusion
Be yourself. Be valued for it.
We have a responsibility to help people around the world – from all walks of life – build a better financial future. So our workforce must reflect the diversity of our clients, in order to bring a wealth of perspectives and insights to solve their unique, complex challenges.
We're a global firm with offices across more than 30 countries, but we operate as "One BlackRock" – and every single employee plays a critical role. No one group or location is more important than another. We thrive on collaboration, mutual trust and respect, and challenge ourselves – and each other – to collectively raise our game.
We already know that the best solutions result from the ideas and contributions of a diverse team of partners, and that more diverse teams tend to outperform homogeneous ones. At BlackRock, we've redefined what "best" means. For us, the best person for our team is someone whose contributions will fill a specific need or gap, expose a blind spot and allow the team and firm to perform at its best. That's why you'll work with technologists who come from a multitude of backgrounds with diverse sets of skills and capabilities.
But it's not enough to focus solely on building a diverse workforce. We take it one step further and ensure that each and every employee feels included – that they belong. BlackRock has more than a dozen employee networks to create the space for our people to meaningfully connect with one another and continue to strengthen our culture.
Our DEI initiative and progress against our goals are communicated regularly to our Board of Directors. In 2020, we achieved our goal of 30% female representation in senior management by 2020.
When inclusion and diversity unite together, they drive outstanding performance and innovation. It's good for our people, and it's good for business. And that's a fact.
Company Values
Our beliefs
BlackRock's long-term success depends on our ability to fulfil our mission of creating better financial futures for our clients. As we pursue that mission, we are guided by our culture and a set of principles that ensure we never forget what we stand for – to help more and more people experience financial well-being. That is our ultimate purpose.
We seek to hire people who believe in this pursuit and our values, known as the BlackRock Principles:
We are fiduciary to our clients. Our clients' interests come first.
We are One BlackRock. We work collaboratively in a diverse, equitable and inclusive environment united by Aladdin.
We are passionate about performance. We are lifelong students continually innovating to better serve our clients and improve our firm.
We take emotional ownership. We feel a deep responsibility to hold ourselves and each other to the highest standards of excellence to serve our clients who entrust us to help them achieve financial well-being.
We are committed to a better future. We are long-term thinkers committed to running our business sustainably and responsibly for all our stakeholders – our clients, our employees, our shareholders and the communities where we operate.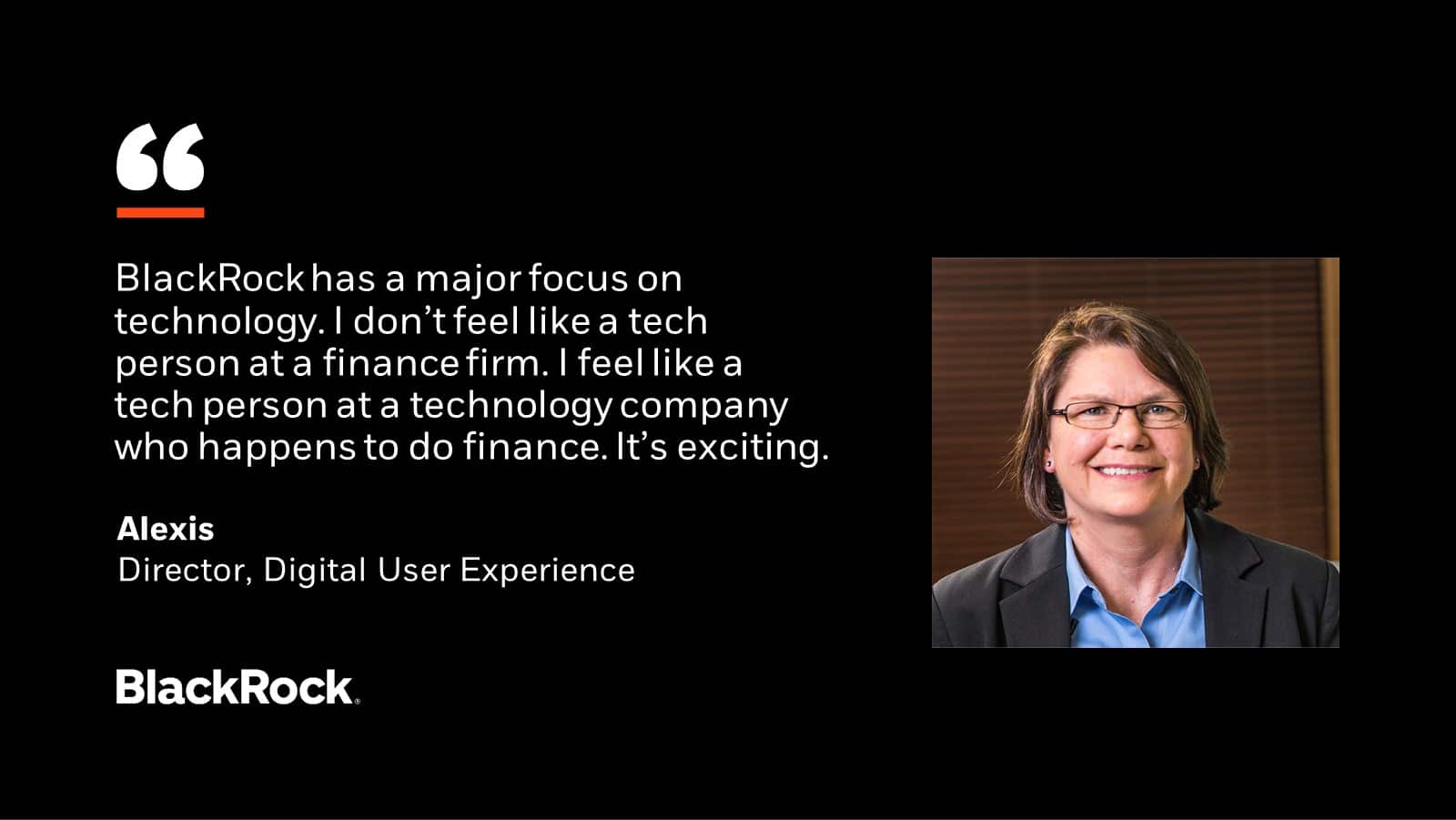 Our Benefits
Compensation and retirement
We help more and more people experience financial well-being – which applies to our employees as much as it does to our clients. You'll have access to competitive retirement savings plan, financial coaching, educational resources, commuter benefits, tuition assistance and more.
Performance bonus
Stock options
ESPP (Employee Stock Purchase Plan)
Commuter assistance plans
Health and wellness
We offer a great selection of healthcare benefits and programs to help you manage costs, live a healthy lifestyle, find the right care, and thrive physically and emotionally.
Health insurance
Dental insurance
Vision insurance
Life insurance
Disability insurance
Fertility and family planning benefits
FSA (Flexible Spending Plan)
EAP (Employee Assistance Program)
Vacation and time off
We care about your holistic well-being. Our unlimited Flexible Time Off (FTO) policy ensures you have time to relax, recharge and be there for the people you care about.
Paid time off
Unlimited time off
Paid holidays
Flexible working hours
Work from home flexibility
Volunteer time off
Parental leave benefits
Personal development
We hire entrepreneurial, lifelong learners and support their personal and career development through BlackRock Tech Academy, professional certification programs and partnership offerings.
Tuition reimbursement
Management training
Internship program
Hackathons
Values and quality of life
We value collaboration, which is evident in our company-wide hackathon and more than a dozen employee networks. Networks range from the Green Team Network to Families & Allies Network through which employees share experiences and support each other in managing work and family life.
Diversity and inclusion programs
Employee networks
Professional networks
Impact networks
Matching charitable donations
Company activities
Employee discount programs