In the UK, we're facing a skills shortage in tech – last year there were more than 2 million vacancies in IT which is more than any other sector. The areas lacking skilled individuals most are cybersecurity, data analysis and coding. Simply put, coding – also known as programming – is the process of writing a set of instructions for a computer to follow. Programming is a key role for almost every business in the world, and with the UK tech sector reaching $1tn in value in March, the demand for skilled coders is on the rise. In this article, we look at the potential of a coding career and how women can help push this growth even further.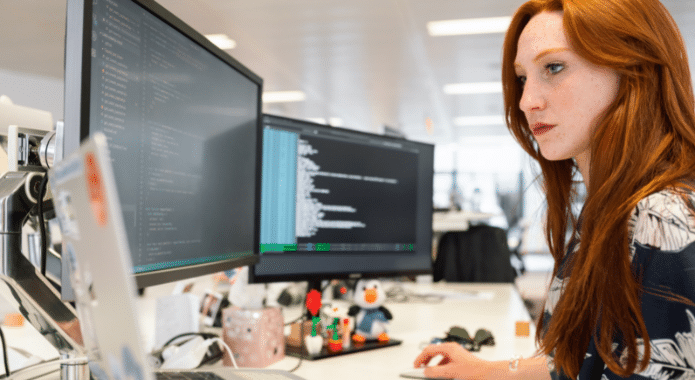 Why is there a lack of women in coding?
Despite the huge demand for programmers, according to SheCodes, women currently only make up 25% of coding jobs. This is completely disproportionate when you take into account the fact that the first computer programmer was a woman. Ada Lovelace's thinking led us to understand that a computer could do a lot more than crunch numbers and Grace Hopper designed the first ever compiler for a programming language. So why, when women have made amazing discoveries and inventions in tech, is there a lack of women in programming careers today?
Pay disparity
One thing we can partially blame for the lack of women in coding is pay disparities. Women in tech earn, on average, 16% less than men. In programming, this figure increases to a staggering 30%. Although this difference can often be put down to a difference in experience level, the fact that a gender pay gap exists is likely to have a huge impact on women's decisions on joining the industry. There is much work to be done to reduce and eventually eliminate the gender pay gap in tech, but this is not the only reason women arne't turning to programming careers.
Young girls' perceptions of tech
Unfortunately, research has suggested that young girls are still largely under the impression that computing is a subject for boys. In this year's GCSE results, we did see a slight increase of 4.32% in the number of girls taking engineering courses however they are still outnumbered, making up only 21.28% of the total students on the courses. This is all despite the fact that female students excel in STEM areas.
In order to change these misconceptions and encourage these clearly highly-skilled girls to start a career in computing, we must ensure that IT is a desirable and welcoming environment for them.
Sexist views
Technology workers, especially coders, have a reputation of being 'geeky'. When many people picture those working in programming, they will think of a man sitting alone in the dark writing code. Unfortunately this misconception is sometimes true, and some of the men working in tech have negative views and opinions on women and their capabilities to work in a tech role. Research by students at Bath University interviewed both men and women in tech, and were told that many people have the opinion that "women cannot write code,but they are good at the 'fluffy' side of things, such as managing relationships with clients and handling anything to do with emotions." Dated views like this will have a negative impact on the number of women taking up tech roles like coding.
Work is being done
However, on a positive note, work is being done to help encourage more women to learn coding and start or even change careers to become a programmer. Code First Girls, who are the largest provider of free coding courses for women in the UK have raised £4.5 million to help close the gender gap and offer free virtual courses. A similar 12-week course in coding would usually cost around £10k, so Code First Girls are removing a huge cost barrier for the women who do their courses. So far, the company has helped over 80,000 women learn how to code and they aim to place over 26,000 women in jobs in the next five years.
Programming is a career option, with a great development path where you could be earning up to £65,000 at a senior level. The demand for programmers is not going to go anywhere due to the extreme growth of the technology industry, so it's a fruitful career to join. Increasing the number of women who learn how to code will result in the gender gap in tech narrowing, as well as increased innovation and a smaller tech skills gap.
Find programming jobs for women on our jobs site, Women in Tech jobs.
See our round-up of the top 5 free coding courses for women.