We interviewed Franki Hackett, Audit Manager, Data Analytics at National Audit Office on her thoughts and experience on women in tech.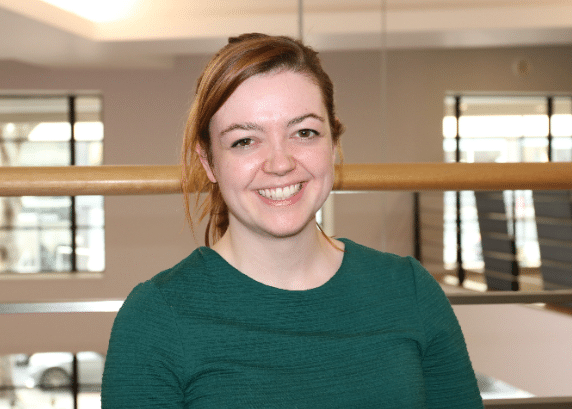 1. What does your job role involve?
I've just been promoted to team leader of the data analytics team for the financial audit side of the business. Most recently I've been project managing the build of our office's cloud data storage platform for some of our audit data. I'm also now responsible for managing a medium-sized team of data scientists, planning the analytics we're going to build, collaborating on the office's data and digital strategy, and maintaining the quality of the code we perform. I present our analytics work internally and externally in the UK and internationally, and part of my job is to keep an eye on emerging tech and consider how we might implement it within the NAO. It's a pretty wide-ranging role!
2. What made you choose a career in technology?
I fell into it almost by accident. I've got a masters degree in politics, and worked in charities for a few years before joining the NAO. Once I arrived I got involved in some extra-curricular data analytics work, which introduced me to the manager who was setting up our new research team. Since then I've learned to code in R and SQL, worked on some really fascinating data sets and built my knowledge of computing, technology infrastructure and data science from the ground up. What I like about working in technology is that I can apply a really broad range of skills to solve problems in brand new ways. And there are always opportunities to learn.
3. Did you study an IT or technology related subject at A-Level or University?
I did maths AS, and had some economics in my undergrad, so effectively no!
4. Did you get any work experience in IT or technology before this role?
I'd done a tiny amount of HTML in some campaigns roles for small charities, but nothing anything like what I do now.
5. Do you think there is a lack of females in the IT and tech sector?
I think women are significantly underrepresented. Especially given the first people really doing coding or data crunching (they even called them computers) at places like NASA and Bletchley park were women. In 2017/18 only 35% of students in core STEM subjects were women and only 19% on computer science courses, and that feeds up into the talent pipeline. It's why the first voice recognition software couldn't understand women's voices (because it had only been trained on male speech), but it also means fewer opportunities for women's progression, as organisations increasingly needs tech literate people for senior jobs. If we don't have women in the more junior tech roles then women are effectively locked out of those more senior roles.
6. Do you find there is a stereotype that a career in IT or technology is just for men?
I think the general perception is that the traditional IT or technology person is a man, and certainly most applications we get for those roles are from men. But I work with some of the most incredible women in tech at the NAO, across our data and digital teams. There are also some really great women leading in technology out in the world, whether that's Edwina Dunn at Starcount or Hannah Fry at UCL (and the BBC) who completely break that stereotype. We need more visibility of women doing this kind of work.
7. What would entice women to study technology related courses?
Being the only woman in the room can be hard and frustrating, and women in tech can sometimes be made to feel like it's not our space. So I think spaces like R ladies which give women a space in tech to not stand out so much can be really valuable. The other thing I hope that would encourage women is knowing that a technology degree is a really good route to a great career. Whether you want to work for yourself or in a big organisation, and whether you want to be an expert or a leader, a technology background can help you achieve your ambitions.
8. Are there barriers when it comes to women getting into tech?
I think it starts really young, and sadly society seems to be more likely to encourage boys than girls to muck around with computers, or more likely to expect girls to struggle with maths and science. And once people are older, not seeing people like you in a space is sometimes a real barrier to seeing yourself in that space. We do blind applications now for our data science roles at the NAO, so I hope that there's no barriers in the hiring process. But I think society has a long way to go before women and men are on an equal footing.
9. How could we encourage more women to start a career in tech?
We could counter the narrative that a job in tech necessarily means sitting in a dark basement on your own staring at a screen – though there are absolutely jobs like that for people who want them. The tech jobs in our office need intelligence, creativity, problem solving, and team work.
We can also show women the opportunities that tech offers. You can be an expert, and deep-dive into really wicked problems. You can be a leader of people as companies increasingly need managers and leaders who understand tech. My job lets me travel internally to talk about tech with likeminded people from audit offices across Europe. So we need to do more to show people that a career in tech can go anywhere you want to go.
 10. What advice would you give young women today at the start of their career?
Be flexible. You're going to change career multiple times in your life, likely as not. So the most important skill you can have is to learn how to learn, so you pick up the skills you need wherever you go. And aim for things you don't think you can do yet – you might surprise yourself!